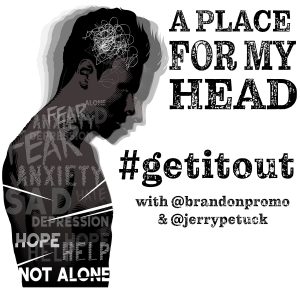 This week on A Place For My Head, Brandon Thompson and Jerry Petuck are joined by former Puddle Of Mudd and Rev Theory lead guitarist Paul Phillips. Throughout Paul's successful music career, he's always dealt with social anxiety and used alcohol as a tool to get through it.
Paul shares stories about being on the road and being on stage with Puddle Of Mudd, Rev Theory, being on tour with Chester Bennington and Linkin Park, his musical idols, how he self-medicated with alcohol to help him get through interviews and how it quickly got out of hand, how he became sober, his inspirational clothing line Demons Behind Me, and so much more.
If you feel you are in crisis, please call the National Suicide Prevention Lifeline at 1.800.273.TALK (8255).
Follow us on social media:
A Place For My Head: Website Facebook
Brandon Thompson: Facebook Instagram Twitter
Jerry Petuck: Facebook Instagram Twitter
Make sure to visit the A Place For My Head website!
Subscribe, rate, and review A Place For My Head on Apple Podcasts, Stitc her, TuneIn Radio, Google Podcasts, iHeartRadio, and Radio Influence.com!
Podcast: Play in new window | Download | Embed