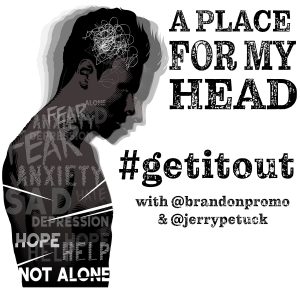 This week on A Place For My Head, Brandon Thompson and Jerry Petuck sit down with the founder and former lead singer of Ill Nino, Cristian Machado. Brandon and Cristian have been friends for years after spending a ton of time on the road touring with the band.
Cristian and the guys discuss the ups and downs of touring life, how he uses his music as an escape, suicide shaming, fatherhood, depression, and Cristian's new single titled "Die Alone" that was just released, and his upcoming album due out September 25th of this year entitled "Hollywood Y Sycamore."
If you feel you are in crisis, please call the National Suicide Prevention Lifeline at 1.800.273.TALK (8255).
Follow us on social media:
A Place For My Head: Website Facebook
Brandon Thompson: Facebook Instagram Twitter
Jerry Petuck: Facebook Instagram Twitter
Make sure to visit the A Place For My Head website!
Subscribe, rate, and review A Place For My Head on Apple Podcasts, Stitc her, TuneIn Radio, Google Podcasts, iHeartRadio, and Radio Influence.com!
Podcast: Play in new window | Download | Embed