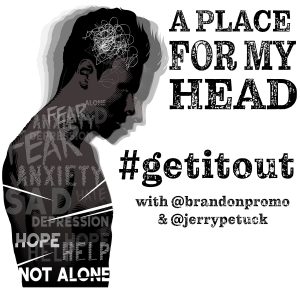 This week on A Place For My Head, Brandon Thompson and Jerry Petuck sit down with Rebecca Minner, a fourth-year medical student at the University of Arkansas and matched into a psychiatry residency. Originally from Iowa, she came down to Arkansas to play volleyball during college. She received her B.S. in biology and psychology. She is graduating from her medical school at the top of her class with academic honors and honors in research.
Though not officially a medical professional yet (she graduates in a few weeks), Rebecca and the guys talk about various medications and their side effects, the fear of being put on a medication for your mental health, how childhood abuse can affect you long term, suicidal ideations, the stigma surrounding mental health, and so much more.
Rebecca has a bright future in the medical world and you can't help but love her!
Also, thanks to Mike Oliviero and "The Mike O Show" at 102.5 The Bone in Tampa for having Brandon on this past weekend to promote the podcast and Mental Health Awareness Month. You can hear the interview at the end of this episode!
If you feel you are in crisis, please call the National Suicide Prevention Lifeline at 1.800.273.TALK (8255).
Follow us on social media:
A Place For My Head: Website Facebook
Brandon Thompson: Facebook Instagram Twitter
Jerry Petuck: Facebook Instagram Twitter
Make sure to visit the A Place For My Head website!
Subscribe, rate, and review A Place For My Head on Apple Podcasts, Stitc her, TuneIn Radio, Google Podcasts, iHeartRadio, and Radio Influence.com!
Podcast: Play in new window | Download | Embed