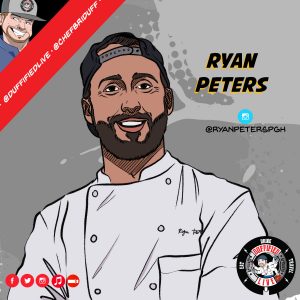 Chef Ryan Peters knew it at age two. He knew he wanted to be a chef at that age! Since then, he's traveled to and from Key Largo and Pittsburgh. Two very odd cities, two very different cities, but two cities with amazing food programs on all levels.
I met Chef two years ago at his 146 square foot spot in Pittsburgh while out with Chef Chad Rosenthal. We had a great lunch that was prepared so well and so creatively for such a small space. Oddly enough, our paths have crossed despite a 22-year difference!
We discuss his newest undertaking at Iron Born Pizza in Pittsburgh, his role as the pasta chef, and his history and lineage that led him to this exact spot.
Follow Chef Brian Duffy on Twitter and Facebook.
Check out his website to learn more about him, to find his products, and some incredible recipes!
Listen to the Duffified Live show archive on Radio Influence!
Subscribe to the show on Apple Podcasts, Stitcher, TuneIn Radio, Google Play, and now on the iHeartRadio app! Make sure to rate and review!
Podcast: Play in new window | Download | Embed