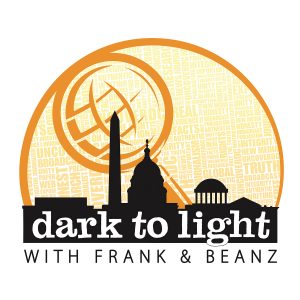 Today's show is a mix of a ton of different topics. We hit on the hysteria surrounding Coronavirus, Beanz' new break in the SpyGate case, and explore what exactly was going on with the 302's in the Robert Mueller investigation.
We definitely make sure that we add in a bunch of laughs throughout so that we can try to take down the temperature a bit. Make sure to check out the links below to see some of what we were talking about.
Have a FANTASTIC weekend!
LINKS WE COVERED
Dana Carvey: Framing OJ
Vic Dibitetto: Bread And Milk
Vic Dibitetto: Gloves And Soap
UncoverDC.com: Carter Page's 302's shed light into relationship with intelligence agencies
Follow Tracy Beanz on Twitter, subscribe to her YouTube channel, and check out her newest venture, UncoverDC.com!
Follow Frank on Twitter, subscribe to his YouTube channel, and follow his solo podcast, Quite Frankly!
Subscribe to Dark To Light With Frank & Beanz on Apple Podcasts, Stitcher, TuneIn Radio, Google Play, and now on the iHeartRadio app!
Podcast: Play in new window | Download | Embed