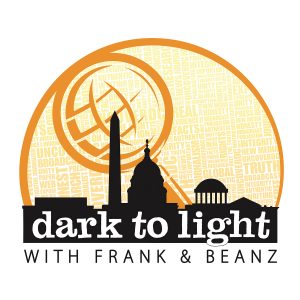 Today, Frank and Tracy Beanz hit on a little of everything. From the Wuhan Virus (or the Coronavirus…..or Covid-19……or whatever), to Super Tuesday #2, to some lighthearted information in the end, we break down what is happening in the world.
What are the democrats thinking and what is going to happen to the Bernie-Bro's? Van Jones has an idea. Also, can Joe Biden even make it through debates and is it fair for the Democrats to cancel the primaries in the rest of the country?
We break down all of this plus a few more surprises in today's episode of Dark to Light!
LINKS WE COVERED
Dr. Karlyn Borysenko on UncoverDC.com: Dear Democrats: It's time to accept that you're getting four more years of Trump
Carol King on UncoverDC.com: President Trump: Clear eyed on Chinese supply monopolies
Follow Tracy Beanz on Twitter, subscribe to her YouTube channel, and check out her newest venture, UncoverDC.com!
Follow Frank on Twitter, subscribe to his YouTube channel, and follow his solo podcast, Quite Frankly!
Subscribe to Dark To Light With Frank & Beanz on Apple Podcasts, Stitcher, TuneIn Radio, Google Play, and now on the iHeartRadio app!
Podcast: Play in new window | Download | Embed