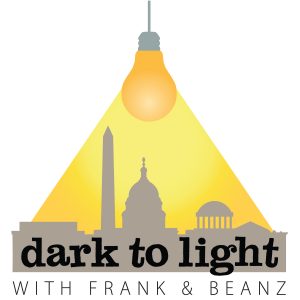 And we're off! We have a jam-packed show today! We talk markets, we talk coronavirus, we talk Donna Brazile and so much more. Frank and Beanz take a more deep dive into the Tuesday results and also talk about the hypocrisy of the left from Chuck Schumer to Donna Brazile and her shenanigans at Fox.
Then, we spend some time on the Carter Page lawsuit and we break down the President's Fox Town Hall last night and how it may influence the Democrat's decision on who their nominee should be.
It is an action-packed episode proudly powered by Native Deodorant!
Don't miss a minute of today's Dark To Light!
This episode of Dark To Light is brought to you by Native Deodorant. Native Deodorant is made with ingredients you've heard of like coconut oil and shea butter. You wear deodorant every day, shouldn't you be able to understand the ingredients list? Get 20% off your first purchase when you visit NativeDeodorant.com and use promo code DARKTOLIGHT during checkout!
LINKS WE COVERED
UncoverDC.com: Serfs of Globalism: In the Age of Corona, What Dies First Is the Inalienable Right to Not Worry
UncoverDC.com: Donna Brazile Needs to Check Her Privilege – and Be Fired
Follow Tracy Beanz on Twitter, subscribe to her YouTube channel, and check out her newest venture, UncoverDC.com!
Follow Frank on Twitter, subscribe to his YouTube channel, and follow his solo podcast, Quite Frankly!
Subscribe to Dark To Light With Frank & Beanz on Apple Podcasts, Stitcher, TuneIn Radio, Google Play, and now on the iHeartRadio app!
Podcast: Play in new window | Download | Embed