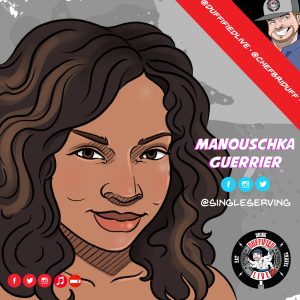 Chef Manouschka Guerrier is a bright vibrant force and constant source of energy! This celebrity personal chef has a lot to say. Our conversation goes from her seven month journey across the country in an RV, a fire, some amazing meals, and a rekindling of her youth when she hits a certain city!
Chef and Chef chat it up about the struggles, the clients, and most importantly, the food!
Follow Chef Brian Duffy on Twitter and on Facebook.
Check out his website to learn more about him, to find his products, and some incredible recipes!
Listen to the Duffified Live show archive on Radio Influence!
Subscribe to the show on Apple Podcasts, Stitcher, TuneIn Radio, Google Play, and now on the iHeartRadio app! Make sure to rate and review!
Podcast: Play in new window | Download | Embed