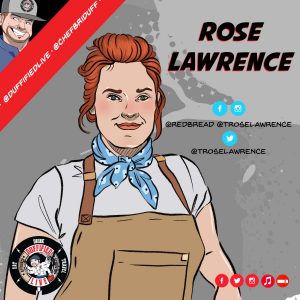 Rose Lawrence is a huge ball of energy and happiness on a mission to serve REAL food. She is the owner and fermenter behind Red Bread, a social justice organic kitchen offering farm to table food and baked goods with ingredients from sustainable organic farms. She also teaches a variety of private and public classes both locally and nationally.
Our conversation takes a few twists and turns as any would but we discuss her career, her love for food, the law, and her baking.
Follow Chef Brian Duffy on Twitter and on Facebook.
Check out his website to learn more about him, to find his products, and some incredible recipes!
Listen to the Duffified Live show archive on Radio Influence!
Subscribe to the show on Apple Podcasts, Stitcher, TuneIn Radio, Google Play, and now on the iHeartRadio app! Make sure to rate and review!
Podcast: Play in new window | Download | Embed