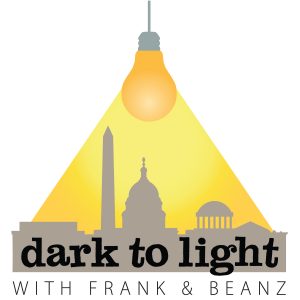 On this Happy Merry Monday of the Dark to Light Podcast, Frank and Tracy Beanz are joined for a bit by Trisha, an amazing patriot who became an overnight sensation during the Impeachment hearings for her face. She has an awesome story and there will be much more to come with her.
Then, Frank and Beanz keep it lighthearted with some personal stories and holiday traditions while also discussing the SpyGate news from the past few days.
They will be back on Friday with a post-Christmas edition of the show and from everyone at the Dark to Light Podcast, please have a VERY MERRY CHRISTMAS!
LINKS WE COVERED
Make sure to follow Trisha on Twitter and check out her book series, "Just The Tweets"
Fox News' Maria Bartiromo speaks to Sen. Lindsey Graham
Follow Tracy Beanz on Twitter, subscribe to her YouTube channel, and check out her newest venture, UncoverDC.com!
Follow Frank on Twitter, subscribe to his YouTube channel, and follow his solo podcast, Quite Frankly!
Subscribe to Dark To Light With Frank & Beanz on Apple Podcasts, Stitcher, TuneIn Radio, Google Play, and now on the iHeartRadio app!
Podcast: Play in new window | Download | Embed