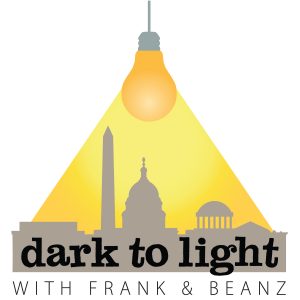 First and foremost on this Veterans Day edition of Dark To Light, Frank and Tracy Beanz thank all of our servicemen and women and their families. It's a really relaxed show today but we do touch on some really important topics!
Then, we get busy talk about what has happened to the DA in San Francisco, Weather Underground connections, criminal parents, and a hate of law enforcement dominate. We discuss Jeffrey Epstein, Mollie Hemingway finally breaking the seal, and we also talk a lot about the state of the media today and disinformation in general.
It's a great show and we are sure you will get at least a few laughs!
LINKS WE COVERED
Sen. Lindsey Graham moves the posts again
Jesse Watters takes on Jeffrey Epstein and the media
Mollie Hemingway is a BAD ASS!
Follow Tracy Beanz on Twitter, subscribe to her YouTube channel, and check out her newest venture, UncoverDC.com!
Follow Frank on Twitter, subscribe to his YouTube channel, and follow his solo podcast, Quite Frankly!
Subscribe to Dark To Light With Frank & Beanz on Apple Podcasts, Stitcher, TuneIn Radio, Google Play, and now on the iHeartRadio app!
Podcast: Play in new window | Download | Embed