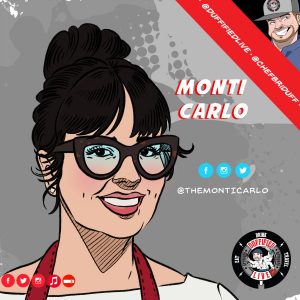 I think Chef Monti Carlo is my new favorite person! We met at a food festival in Washington state and became friends pretty quick. We had a few great convos and I knew I immediately wanted to have her on the show. It's spectacular to me how people find their path into the industry and what they do to not only get here but to stay!
Chef Monti Carlo, Puerto Rican born and raised, has led a pretty amazing nineteen years. We discuss everything from marriage and divorce to raising smelly pre-teen and teenagers all the way into how she got her start on the show "Masterchef" and how it's changed her life.
Follow Chef Brian Duffy on Twitter and on Facebook.
Check out his website to learn more about him, to find his products, and some incredible recipes!
Listen to the Duffified Live show archive on Radio Influence!
Subscribe to the show on Apple Podcasts, Stitcher, TuneIn Radio, Google Play, and now on the iHeartRadio app! Make sure to rate and review!
Podcast: Play in new window | Download | Embed