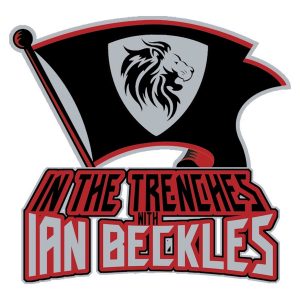 Heading into the final week on the preseason, former Tampa Bay Buccaneers OL Ian Beckles breaks down what he saw on Friday night in the Buccaneers one-point win against the Cleveland Browns.
Ian hits on both sides of the ball. He starts by talking about the defense, which had a good game. He hits on all of the position groups and tells you what he's seeing out of Ndamukong Suh. Then he switches over to the offense, which he tells you why this team is much different without Mike Evans. And being an offensive lineman, he breaks down the offensive line including the stunt that Alex Cappa got beat on in the first half against the Browns.
This episode of In The Trenches is brought to you by MyBookie. The place to bet on football every weekend. MyBookie has live, in-game betting on every NFL game. They've got the most rewarding player perks in the business and for you fantasy guys out there, you can even bet the over/under on how many fantasy points a player will score each game. This year, they're hosting the first online handicapping SuperContest. First place is guaranteed to win at least $100,000 and it only costs $100 to enter. Plus, MyBookie will double your first deposit up to $1000 if you use the promo code INTRENCHES. Bet. Win. Get Paid. My Bookie!
Subscribe, Rate, and Review the podcast on Apple Podcasts, Stitcher, Google Play, and TuneIn Radio.
Have a question for Ian, send an email to IanBeckles@RadioInfluence.com.
Follow Ian on Twitter @IanBeckles and on Instagram @Ian_Beckles
Check out Ian's other podcasts, The Cannabis Podcast, Flavor of Tampa Bay and Flava In Ya Ear.
Podcast: Play in new window | Download | Embed