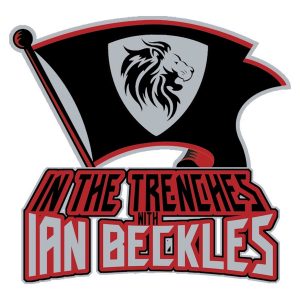 This week on "In The Trenches," former NFL offensive lineman Ian Beckles talks about some of the hot topics in the league including the settlement agreement between the NFL and Colin Kaepernick.
Ian gets the show started by discussing what's going on in Pittsburgh with Le'Veon Bell and Antonio Brown. He talks about how it appears the Steelers plan to play the transition tag on Bell and some of the stories coming out about Brown's actions during the season.
Up next, Ian hits on the Baltimore Ravens trading Joe Flacco to the Denver Broncos and how the Ravens are going all-in on Lamar Jackson. Ian tells you whether or not he believes Jackson can succeed long term and then he gets into the settlement agreement reached between the NFL and Kaepernick.
Finally, Ian hits on a couple of topics related to the Tampa Bay Buccaneers. First, he touches on the current salary cap room the team has and then tells you about where the team ranks in the league in customer service satisfaction with season ticket holders.
All of that and more on this edition of "In The Trenches" and if you have a question for next week's episode, send an email to Ian (IanBeckles@RadioInfluence.com). 
Subscribe, Rate, and Review the podcast on Apple Podcasts, Stitcher, Google Play, and TuneIn Radio.
Follow Ian on Twitter @IanBeckles and on Instagram @Ian_Beckles
Check out Ian's other podcasts, The Cannabis Podcast and Flava In Ya Ear
Podcast: Play in new window | Download | Embed