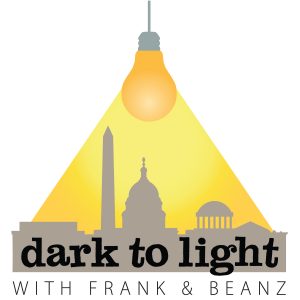 On today's episode of "Dark to Light," Frank and Beanz lighten it up a little bit. They talk about the swing towards violence from the left, and Beanz goes into some strategy on what exactly is happening.
They speak some more about Kanye West and his trip to the White House, and how it's actually a GOOD thing that CNN is able to get away with letting their hosts and guests act so horribly. There are some personal stories mixed in about the diversity in America, and some banter between Frank and Beanz about the upcoming #WalkAwayMarch on Washington.
Tune in today for a lighthearted show, that should make you chuckle.
If you enjoy the show and want to support it, make sure to check out Blinkist. If you're a book lover, Blinkist is taking care of you. The Blinkist app transforms the key insights of 2500+ bestselling nonfiction books into powerful packs you can read or listen to in just 15 minutes. Over 5 million people are using Blinkist everyday to glean the insights they need to become their best selves. Right now, for a limited time, Blinkist has a special offer just for our you. Go to Blinkist.com/DarkToLight to start your free 7 day trial. You can cancel any time. Visit Blinkist.com/DarkToLight now!
Follow Tracy Beanz on Twitter and subscribe to her YouTube channel!
Follow Frank on Twitter, subscribe to his YouTube channel, and follow his solo podcast, Quite Frankly!
Subscribe to Dark To Light With Frank & Beanz on Apple Podcasts, Stitcher, TuneIn Radio, and Google Play!
Podcast: Play in new window | Download | Embed