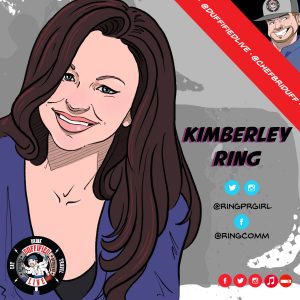 This week, it's another real life person that Chef Brian Duffy became friends with via social media.
Kimberly Ring, a Boston native who Chef "met" about 6 years ago via twitter, started a simple chat about some stuff & Kim's love of restaurants, hospitality, & UFC! The two started passing information and opportunities to each other, as two "connectors" would. Through the years, their communication has continued and has led to a few fun opportunities for Chef & Kim alike.
Today, Kim has created Ring Communications, an integrated consultancy that offers full service public relations, social media, and marketing solutions to clients in the hospitality, sports, and lifestyle industries. They are a small-but-mighty team of talented and creative individuals who deliver only best of breed strategies to help clients build brands and get noticed. Ring Communications has years of proven expertise in launching brands and growing businesses. Their unique ability to fuse traditional and new marketing techniques introduces brands to their respective audiences, and keeps them relevant, exciting and growing throughout the partnership. They are dedicated to delivering success – over and over again.
Check out this episode of Duffified Live to gain some insight into the world of PR, SOCIAL MEDIA & even a few fun stories of times gone by!
Follow Chef Brian Duffy on Twitter and on Facebook.
Check out his website to learn more about him, to find his products, and some incredible recipes!
Listen to the Duffified Live show archive on Radio Influence! Subscribe to the show on Apple Podcasts, Stitcher, TuneIn Radio, and now on Google Play and make sure to rate and review!
Podcast: Play in new window | Download | Embed