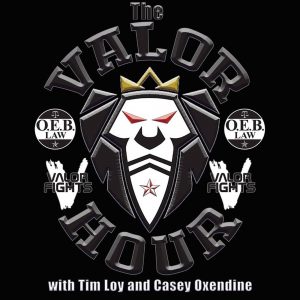 On this week's episode of The Valor Hour, Tim Loy and Casey Oxendine are joined by special guest co-host Allan Poole to discuss the latest in mixed martial arts and they have interviews with Chandler Cole, Jenna Baines, Brandon Watts, and Joseph Long.
At the beginning of the podcast, the guys take a look back at last weekend's mixed martial arts action as they discuss UFC 224 and Bellator 199. They talk about the controversy surrounding Raquel Pennington in the main event of UFC 224 and Ryan Bader's 15-second win against King Mo Lawal in the main event of Bellator 199. Then it's on to the weekly Q&A segment as Tim answers listener questions submitted on social media.
Up next is the interview portion of the show and up first is Valor Fights vet Chandler Cole (17:59) to discuss his decision to try out for The Ultimate Fighter 28 next week in Las Vegas. Then they are joined by Jenna Baines (26:00) to talk about her Muay Thai bout against Jordan Sexton at Showcase MMA on June 2. Speaking of Showcase MMA, up next is Brandon Watts (29:56) to preview the event. And in the final interview, Joseph Long (39:24) comes on to preview his upcoming fight at Valor Fights 50 against Caleb Miller.
Thanks for listening and we would appreciate if you would like, and share the podcast with your friends.
Subscribe to The Valor Hour on Apple Podcasts, Stitcher, and Google Play
Podcast: Play in new window | Download | Embed