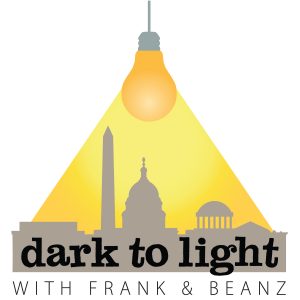 Radio Influence is pleased to welcome "DARK TO LIGHT WITH FRANK & BEANZ" to the Radio Influence family beginning Friday, May 4th, 2018.
"DARK TO LIGHT WITH FRANK & BEANZ" is a new podcast which seeks to transform how in depth reporting about complicated political topics reaches an audience who wishes they knew but can't take the monotony of the mainstream media. By combining cutting edge investigative journalism, with sharp wit and pop culture punditry, "DARK TO LIGHT WITH FRANK & BEANZ" promises to enlighten about corruption in government, while allowing the audience to take a deep breath and have a laugh once in a while.
Tracy Beanz has been an activist and journalist since 2001, worked extensively and very closely with the Ron Paul Presidential campaigns in both 2008 and 2012, and has been intimately in planning and participating in several nationwide and regional grassroots events. As an investigative journalist, Tracy has focused on a range of topics with a heavy focus on the "Trump/Russia" collusion scandal. Her work has spanned topics such as the Clinton Foundation, the Clinton email investigation, and the Mueller Special Counsel investigation. Her work has been featured on Zerohedge, The Gateway Pundit, The Conservative Treehouse, Hagmann and Hagmann, and InfoWars. For more on Tracy, visit her Youtube page and subscribe.
Frank, host of the "Quite Frankly" podcast since 2011, has been in broadcasting since getting his start at a small Purchase, NY college radio station in 2006. He created "Quite Frankly" to create a punching bag for socio-political venting. He isn't afraid to cause a stir and raise a little Hell. For more on Frank, visit his Youtube page and subscribe.
"We were looking for a great platform to host the show that was open to 'new media." We really wanted to work with visionaries who were down for something different and something hip," said co-host Tracy Beanz. "We needed our platform to be brave about real reporting on tough topics that often times counters the mainstream narrative, and a platform that respects and trusts their audience. Radio Influence was that platform."
"With everything going on in the world today, it's important to give a voice to a group of people that generally gets ignored by the mainstream media," said Jerry Petuck, CEO of Radio Influence. "You can't be afraid to talk about the hard subjects. Tracy's reputation speaks for itself and the massive following she has on social media and the success of her YouTube channel tells me that she's got the ear of a lot of people and they care what she has to say. Put that together with the success that Frank has had on his own and the relationship that they have, it's a no brainer. Whether you agree with their politics or not, her and Frank certainly will keep you entertained."
"DARK TO LIGHT WITH FRANK & BEANZ" will debut Friday, May 4th, 2018 on all major podcast platforms and RadioInfluence.com.
The Radio Influence family of shows include a variety of both terrestrial radio hosts and established internet broadcasters providing a great mix and different perspectives on sports, entertainment, lifestyle, and more. All programs can be found on Apple Podcasts, Stitcher, TuneIn Radio, Google Play, and RadioInfluence.com.
For more information, contact Jerry Petuck at Petuck@radioinfluence.com.
Podcast: Play in new window | Download | Embed