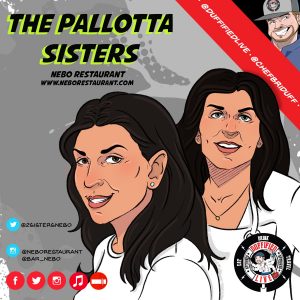 In the restaurant world, there are two types of people…..those that want & those that do. I am lucky enough to meet the third person this that do because they want it! Chef talks with two very dynamic & empowered women this week, Carla & Christine Pallotta, sisters from the north end of Boston who were raised in the typical old school Italian fashion…..by the family.
Salon owners for over twenty years and then BOOM. Restaurant owners. They opened up Nebo with rave reviews & phenomenal classic Italian food, Mom & Grandmom's recipes, nonsense of the "industry" per se, but they crushed it! This is what you do after you own a hair salon for over twenty years. You take that sense of hospitality, that sense of creative pride, the ability to take care of your guests, and you exceed the expectations!
Neither of them have been classically trained. They don't have a "chef." Most of their employees haven't worked in the industry and it's a blessing for the two sisters who are so proud of their heritage and neighborhood that they now own two successful spots.
We talked about family, pride, community responsibility, and the ability to truly take care of your guests.
This was a great interview with two wonderful ladies!
Follow Chef Brian Duffy on Twitter and on Facebook.
Check out his website to learn more about him, to find his products, and some incredible recipes!
Listen to the Duffified Live show archive on Radio Influence! Subscribe to the show on Apple Podcasts, Stitcher, TuneIn Radio, and now on Google Play and make sure to rate and review!
Podcast: Play in new window | Download | Embed