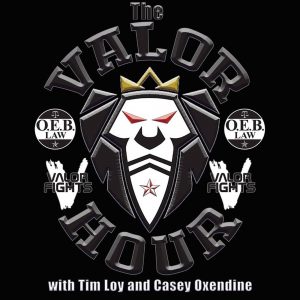 Tim and Casey are joined this week by Allan Poole, Sawyer Rich, and Jeff Hobbs to look ahead at the upcoming Valor Fights winter and spring events. Plus, the guys are joined by Brandon Folen to preview his fight next month at Valor Fights: Border Wars 2 in Corbin, Kentucky.
Now before that happens on this week's podcast, the guys look back at last weekend's UFC 220 and Bellator 192. They discuss what they saw happen on both fight cards and debate on which promotion put on the better show. Plus, Casey brings up a post on Facebook by Charlie Alexander about Sawyer Rich and Tim answers listener submitted questions in the weekly Q&A segment.
Up next is the interview with Brandon Folen, who is scheduled to meet Cal Gill at Border Wars 2 on February 17. Folen talks about his preparations for this matchup and his MMA run to this point. Then it's on to the main event of this week's podcast as the panel looks ahead at the upcoming Valor Fights schedule which includes the promotion heading to Virginia in May,
Thanks for listening and we would appreciate if you would like, and share the podcast with your friends.
Subscribe to The Valor Hour on Apple Podcasts, Stitcher, and Google Play
Podcast: Play in new window | Download | Embed