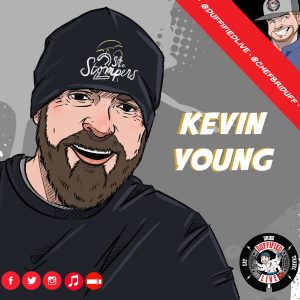 As a Philly guy, the traditions & shenanigans that I have experienced for New Year's are a part of me that I'll never ever let go. Philadelphia, known for cheesesteaks and pretzels, also has another great tradition….. PARADES!!! From one of the oldest St. Patrick's Day parades to the oldest and largest folk parade, The Mummers made their first organized strut on January 1, 1901 and since then, the comics, wenches, string bands, and fancies have entertained the historic, inebriated & hungover for years.
This week, I get to speak with Kevin Young, a friend, a teacher, and the captain of this year's first place Comic Division for the 2018 Sugar House Casino Mummers' Day Parade. Kevin is a guy with a mission to make things great and to let the world (or at least his neighbors) know that the "2 Street Stompers" are here for good!
As a captain, Kevin is involved in so many aspects of the planning for the Parade. We talk about all of that plus the history and tradition that is the Philly Mummers' Parade!
Follow Chef Brian Duffy on Twitter and on Facebook.
Check out his website to learn more about him, to find his products, and some incredible recipes!
Listen to the Duffified Live show archive on Radio Influence!
Subscribe to the show on Apple Podcasts, Stitcher, TuneIn Radio, and now on Google Play and make sure to rate and review!
Podcast: Play in new window | Download | Embed