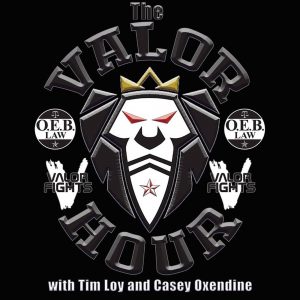 This week on The Valor Hour, Tim Loy and Casey Oxendine kick the podcast off by recapping what happened last weekend in Talladega at the Monster Bellator MMA Fight Series event and answer listener questions submitted to the podcast.
Up next is the interview portion of the podcast as the guys are joined by Valor Fight 45 fighters Cody Durden, Chandler Cole, and David Robins. Durden (22:50) previews his bantamweight bout against David Lewis, Cole (31:00) talks about his heavyweight bout against Dustin Dyer, and Robins (39:40) talks to the guys about his Muay Thai title fight against Josh Hill.
Following those interviews, the guys are joined by Mark Laws, Allan Poole, and Sawyer Rich to give you a complete preview of Saturday's Valor Fights 45 (48:48). Find out who Mark, Allan, and Sawyer are picking to win on Saturday night on the fight card coming from the Brainerd High School in Chattanooga, Tennessee.
Follow Valor Fights on Twitter: @ValorFights
Follow Tim Loy on Twitter: @TzLoy
Follow Casey Oxendine on Twitter: @CaseyOxendine
Subscribe to The Valor Hour on Apple Podcasts, Stitcher, and Google Play
Podcast: Play in new window | Download | Embed