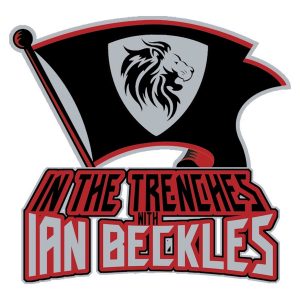 A couple of days have passed since the Tampa Bay Buccaneers took on the New England Patriots and Ian Beckles kicks off this week's episode of "In The Trenches" by discussing the missed opportunity the Bucs did not take advantage of.
Ian touches on the play of Doug Martin in his first game back from suspension, the play of defensive tackle Chris Baker, and quarterback Jameis Winston. Also, Ian talks about everything that happened this weekend in the NFL from the injuries to star players and Vice President Mike Pence brief appearance at the Indianapolis Colts vs. San Francisco 49ers game.
Plus, Ian talks about the video that surfaced online this weekend of now former Miami Dolphins offensive line coach Chris Forester. Ian played for Forester for one year in 1996 with the Buccaneers and offers his insight into what it was like to play with Forester. Ian explains how Forester was the worst coach he's ever been around and how karma is well you know what.
Subscribe, Rate, and Review the podcast on Apple Podcasts, Stitcher, Google Play, and TuneIn Radio.
Follow Ian Beckles on Twitter: @IanBeckles
Submit your question to next week's podcast by emailing Ian (IanBeckles@RadioInfluence.com) your written question or submit your question in audio form.
Podcast: Play in new window | Download | Embed