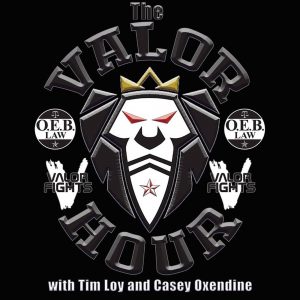 This week on The Valor Hour, Tim Loy and Casey Oxendine are joined by special guest co-hosts Mark Laws and Allan Poole to get your ready for this weekend's Rumble on the River in South Carolina.
Now before they get to the official preview of Rumble on the River, the guys talk about this weekend's Bellator 184 and UFC 216. They discuss the fights that will take place on those fight cards and then they get into the weekly Q&A segment, which Tim answers questions submitted by the listeners.
Then it's on to the interview portion of the podcast as they are joined by Sid Wheeler (16:07), Angelica Martinez (24:49), and Wes Evans (32:38). Wheeler previews his upcoming matchup at Valor Fights 45 on October 21 against Robert Hale and talks to the guys about returning to competition after a horrific car accident earlier this year. Up next is Martinez, as she previews her flyweight title fight on Saturday night against Fotini Kandris at Rumble on the River. And in the final interview, Evans talks about fighting Dylan Smith for the lightweight title in the main event of Rumble on the River.
Following the interview with Evans, the guys breakdown the entire Rumble on the River fight card, which will be available on FloCombat on Saturday. Tim breaks down all of the fights and find out who Mark and Allan are picking in the fights.
Follow Valor Fights on Twitter: @ValorFights
Follow Tim Loy on Twitter: @TzLoy
Follow Casey Oxendine on Twitter: @CaseyOxendine
Subscribe to The Valor Hour on Apple Podcasts, Stitcher, and Google Play
Podcast: Play in new window | Download | Embed