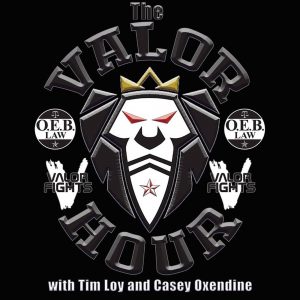 This week on The Valor Hour, Tim Loy and Casey Oxendine take a look back at last week's UFC Fight Night 117 and Bellator 183. From Ovince Saint Preux's von flue choke submission win against Yushin Okami to Patricky "Pitbull" Freire's split decision win over Benson Henderson, they break it all down.
Then the guys bring in Warrior FC President Jimbo Collins to break down last week's Warrior FC card and they ask Collins what he would like to see happen next for the winners of that fight card. Following their breakdown of last week's Warrior FC card, they get into the weekly Q&A segment. The questions hold a wide range of topics including a Valor Fights competitor that is getting a big opportunity in Bellator in the very near future.
After going through the listener questions submitted online, the guys head into the interview portion of the podcast as they are joined by Fotini Kandris and Robert Hale. Kandris (47:48) previews her fight next week at Rumble at the River as she will be facing Yeinssey Alcantara for the Bar Battles flyweight title and Hale (56:16) previews his fight against Sid Wheeler at Valor Fights 45 on October 21.
Follow Valor Fights on Twitter: @ValorFights
Follow Tim Loy on Twitter: @TzLoy
Follow Casey Oxendine on Twitter: @CaseyOxendine
Subscribe to The Valor Hour on Apple Podcasts, Stitcher, and Google Play
Podcast: Play in new window | Download | Embed