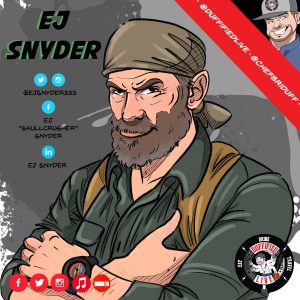 Chef talks about the eclipse and the fact that every had one common interest on 8/21/17….. and it was a GREAT DAY!
This week, it's a chat with E.J. Snyder, a man, a highly decorated soldier from the US Army, and a highly recognizable face known throughout the survivalist community for his time on "Naked & Afraid." It's a very candid conversation about military life and his move to acting and ultimately appearing on the reality shows.
E.J. is a proud man who doesn't let fear dictate his life or even parts of it.
Follow Chef Brian Duffy on Twitter and on Facebook.
Check out his website to learn more about him, to find his products, and some incredible recipes!
Listen to the Duffified Live show archive on Radio Influence!
Subscribe to the show on Apple Podcasts, Stitcher, TuneIn Radio, and now on Google Play and make sure to rate and review!
Podcast: Play in new window | Download | Embed