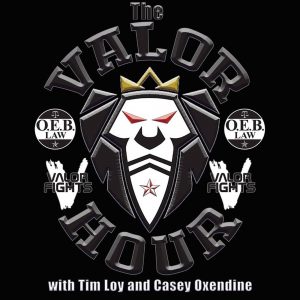 This week on The Valor Hour, Tim and Casey are joined by Allan Poole to recap last weekend's Bellator MMA Fight Series event that took place at the Bristol Motor Speedway.
After recapping the fights that took place last weekend in Tennessee, the guys preview this weekend's Bellator 182 and the boxing match in Las Vegas between Floyd Mayweather and Conor McGregor.
Following their discussion on this weekend's fight, the guys are joined by Ben Sergent (34:33) to recap his fight at last weekend's Bellator event. Sergent talks about what went wrong in his fight against Brandon Bell and speaking of Bell (46:06), he joined the podcast to discuss his victory over Sergent and gives his thoughts on a potential rematch in the future. Then in the final interview of this week's podcast, amateur welterweight Greg Hopkins (55:47) comes on the show to preview his matchup against Paco Merris, which will take place next month at Bar Battles.
Follow Valor Fights on Twitter: @ValorFights
Follow Tim Loy on Twitter: @TzLoy
Follow Casey Oxendine on Twitter: @CaseyOxendine
Subscribe to The Valor Hour on Apple Podcasts, Stitcher, and Google Play
Podcast: Play in new window | Download | Embed