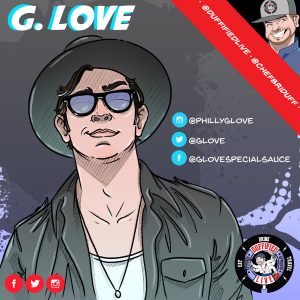 Chef chats with Philly native rocker and hip hop legend, G. Love! It's a great conversation about the beginning, the roots of his music, travel, and creativity processes. G. Love is a quality dude with a great sound and a great vibe! Make sure to check out his music!
Chef chats about the importance of service….allow service to happen and don't accept anything less. Service is the key to success in most businesses and we need to remember that. Train our servers, bartenders, and ALL front of house staff to be on point and you will see a difference in your return guests!
Follow Chef Brian Duffy on Twitter and on Facebook.
Check out his website to learn more about him, to find his products, and some incredible recipes!
Listen to the Duffified Live show archive on Radio Influence!
Subscribe to the show on Apple Podcasts, Stitcher, TuneIn Radio, and now on Google Play and make sure to rate and review!
Podcast: Play in new window | Download | Embed