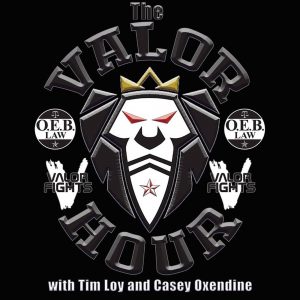 This week on The Valor Hour, Tim Loy and Casey Oxendine are joined by Valor Fights photographer Allan Poole and they started off by recapping what happened last weekend at LFA 17, UFC on FOX 25 and Valor Fights vs. Conflict MMA: Worlds Collide.
After recapping those fight cards, they get into the some of the national news including the Association of Boxing Commissions and Combative Sports approving the addition of four new weight classes in MMA. Up next is the weekly Q&A segment where Casey asks Tim listener questions and one of the questions this week was about undefeated welterweight prospect Lindsey "Sweet Tea" Jones potential return to the Valor cage.
After answering questions submitted to the podcast, the guys get into the interview portion of the podcast as they are joined by Eryk Anders (39:14), Marlon Vera (46:50), Luis Pena (54:55), and Whitney Pyles (1:08:51). Anders and Vera recap their wins at UFC on FOX 25, Pena talks about winning the Valor Fights lightweight title at Worlds Collide, and Pyles previews her upcoming fight in the main event of VFW Fight Night on August 12.
Follow Valor Fights on Twitter: @ValorFights
Follow Tim Loy on Twitter: @TzLoy
Follow Casey Oxendine on Twitter: @CaseyOxendine
Subscribe to The Valor Hour on Apple Podcasts, Stitcher, and Google Play
Podcast: Play in new window | Download | Embed