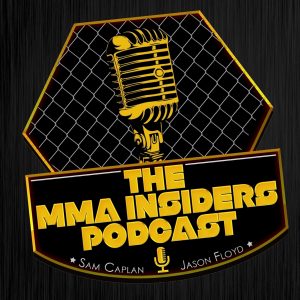 Floyd Mayweather vs. Conor McGregor is official for August 26 in Las Vegas and this is the opening topic on this episode of The MMA Insiders Podcast with Sam Caplan and Jason Floyd. The guys discuss multiple aspects of this upcoming boxing bout including whether the arena on fight night will be a pro-Mayweather or pro-McGregor crowd.
The next topic Sam and Jason touch on is this weekend's Bellator NYC pay-per-view. The discuss the additions of Mike Goldberg and Mauro Ranallo to the broadcast team, what they predict the pay-per-view buy rate to be and Jason ask Sam if he sees similarities between when Michael Chandler defeated Eddie Alvarez in 2011 to Brent Primus facing Chandler on this fight card.
Following the discussing of Bellator NYC, the guys talk about the passing of former UFC fighter Tim Hague following his knockout lost in Canada following a boxing bout. Sam gives his thoughts on the entire situation and answers a question from a listener about the medical coverage and response planning that goes into running an event that is sanctioned by an athlete commission.
Then in the final topic of this edition of the podcast, Sam and Jason talk about the formation of the Mixed Martial Arts Journalism Association (MMAJA). Does Jason plan to join the MMAJA? What does Sam think about this? What's the end game of the MMAJA? The guys have an interesting conversation about this and Jason tells you about some of his experiences in covering MMA.
Follow Sam Caplan on Twitter: @SamCaplanMMA
Follow Jason Floyd on Twitter: @Jason_Floyd
Subscribe to The MMA Insiders on Apple Podcasts, Stitcher and Google Play
Podcast: Play in new window | Download | Embed