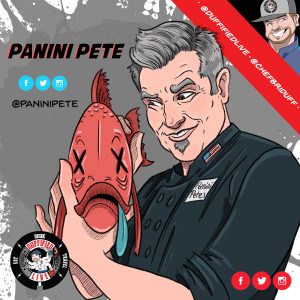 This week, Chef traveled to the city of Ft. Myers, FL for a visit with some of his favorite people, a HUGE St. Patricks Day celebration, and trip home to his staff where he delivers a culture speech!
Chef also interviews his longtime friend & fellow Chef Pete Blohme, aka "Panini Pete." He's owned Panini Pete's Cafe & Coffeehouse in Fairhope, AL for over 11 years and has been repeatedly featured on The Food Network. They discuss Messlords, the importance of giving back to the military. and traveling around the globe doing it.
Thanks for listening and don't forget to subscribe, rate, and review the show on iTunes and Stitcher!
Follow Chef Brian Duffy on Twitter and on Facebook.
Check out his website to learn more about him, to find his products, and some incredible recipes!
Subscribe to the show on iTunes and Stitcher and don't forget to rate and review the show.
Podcast: Play in new window | Download | Embed