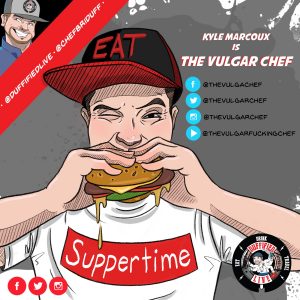 Duffified Live goes VULGAR!!!!
Chef has been traveling all week between 70 degree Tampa to open the new Features Gastropub, 19 degree Philly for the weekend, and Ft. Myers for his annual St. Patrick's Day appearance at The City Tavern.
Now, Chef has to blow off a little steam and get a little vulgar so he calls on internet sensation Kyle Marcoux, aka "The Vulgar Chef," for some food & humor chatting! Kyle's food combinations are a riot to boot and then you add in a foul mouth that would make a truck driving sailor on leave blush.
Go check him out on Twitter and YouTube. It's awesome.
Thanks for listening and don't forget to subscribe, rate, and review the show on iTunes and Stitcher!
Follow Chef Brian Duffy on Twitter and on Facebook.
Check out his website to learn more about him, to find his products, and some incredible recipes!
Subscribe to the show on iTunes and Stitcher and don't forget to rate and review the show.
Podcast: Play in new window | Download | Embed