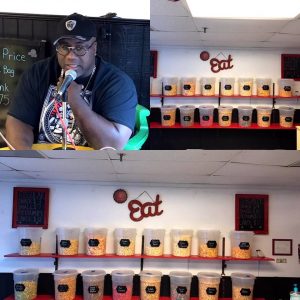 This week, Ian is hanging out in South Tampa with DJ Don Pablo at Chef Inspired Popcorn on S. Howard. The two guys give you an education on the history of hip hop as well as how other genres have found their way into hip hop as well.
Ian also talks about how he feels the Buccaneers should be a playoff team, the Lightning finding their stride at the perfect time, his concerns about the future of the Tampa Bay Rays both on the field and off, as well as a ton more. You know Ian. He's never short on opinions!
He also chats with Lizette Rivera of Chef Inspired Popcorn about the concept and what she sees in the future for genuinely unique idea in the SoHo District of Tampa.
For more information about Chef Inspired Popcorn in Tampa, make sure to check out their website and visit the store at 927 S. Howard Blvd!
Follow Ian Beckles on Twitter and on Facebook.
For more information as to what Ian is up to, check out DignitaryRadio.com.
Subscribe to the show on iTunes and Stitcher and don't forget to rate and review the show!
Podcast: Play in new window | Download | Embed