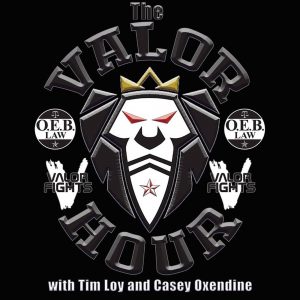 Valor Fights President Tim Loy and Valor Fights color commentator are back for the second episode of "The Valor Hour" and they kick off this week's podcast by recapping what happened last weekend at Warrior FC, Bellator 174 and UFC 209. They give their take on multiple fight that took place last weekend including the controversial UFC welterweight title fight and are joined by Warrior FC President Jimbo Collins to recap his fight card that took place in Kentucky.
After having a conversation with Collins, Loy and Oxendine turn their attention to next week's Valor Fights 41 event that will be streamed live and exclusively on Flo Combat. First up, they talk with Jason King about his fight against David Suter. They talk to King about his preparations for his fight set for next Saturday night and he talks about working with current UFC light heavyweight Ovince St-Preux. After talking with King, the guys bring in Valor Fights 41 headliner Chris Wright. They talk to Wright about his upcoming fight against Dylan Cala and the role Wright had in bringing Gerald Meerschaert to Valor Fights last year. Then in the final interview on this week's podcast, they talk with Jakob Clemons about his UMMAF qualifier against Shane Shaffner.
To wrap up this episode of "The Valor Hour," Loy and Oxendine preview this weekend's events. They discuss Friday's Legacy Fighting Alliance 6 and Saturday's UFC 210.
Follow Valor Fights on Twitter: @ValorFights
Follow Casey Oxendine on Twitter: @CaseyOxendine
Subscribe to The Valor Hour on iTunes and Stitcher
Podcast: Play in new window | Download | Embed