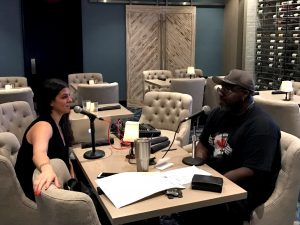 This week, Ian visits one of North Tampa's newest restaurant gems, The Sacred Pepper, with his friend Joanne Petrella (aka JoJo from The Miggs & Swig Show on 102.5 The Bone in Tampa). When she isn't on the air, she's also an executive assistant for DeBartolo Holdings. Yes, THAT DeBartolo, who also owns The Sacred Pepper.
The two have a fun time discussing everything from President Donald Trump, how JoJo grew up with one straight brother and one gay brother, the chances an NFL locker room would accept a gay player and the comparisons of that and if a white player called a black player "the n word," learning how trust people and the fear of letting them down, the DeBartolo family, a huge party going on May 19th, and so much more.
The Sacred Pepper is located at 15405 N. Dale Mabry Hwy. in Tampa, FL. For reservations, call (813) 609-8000 or visit their website for more information.
Follow Ian Beckles on Twitter and on Facebook.
For more information as to what Ian is up to, check out DignitaryRadio.com.
Subscribe to the show on iTunes and Stitcher and don't forget to rate and review the show!
Podcast: Play in new window | Download | Embed