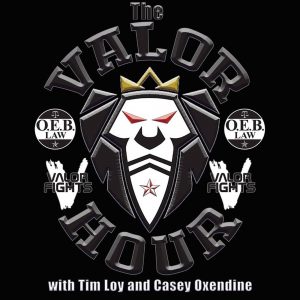 On the debut episode of "The Valor Hour," Valor Fights President Tim Loy and Valor Fights color commentator Casey Oxendine give you an inside look into Tennessee mixed martial arts promotion Valor Fights and everything else going on in the mixed martial arts community.
They begin the podcast by talking about what happened last weekend at Bellator 173 and Legacy Fighting Alliance 5. They break down fights that took place on both fight cards and talked about whether Adam Townsend will be able to parlay his victory at Legacy Fighting Alliance 5 into a contract offer from the UFC.
Then the guys begin the interview portion of the podcast as they are joined first by Warrior FC promoter Jimbo Collins to preview his fight card on Saturday, which Tim and Casey will be calling on FITE TV. After talking to Jimbo about the fight card, the guys are joined by Warrior FC headliners Nick Baker and Ken Beverly.
The final two interviews on this edition of the podcast are with Valor Fights 41 fighters Chandler Cole and Billy Swanson. Cole talks about his fight against Phillip McGlothlin and Swanson previews his fight against Kelly Payne in a UMMAF qualifier.
To wrap up the podcast, Tim and Casey preview this weekend's UFC 209. They break down the five fights that will be part of the main card on pay-per-view and also preview Friday's Bellator 173.
Follow Valor Fights on Twitter: @ValorFights
Follow Casey Oxendine on Twitter: @Casey_Oxendine
Subscribe to The Valor Hour on iTunes and Stitcher
Podcast: Play in new window | Download | Embed