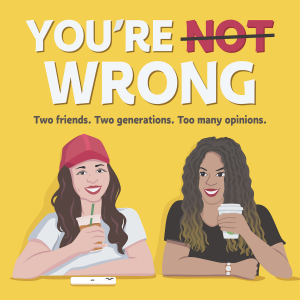 In this February Dating Edition, Elisabeth hosts a Millennial Moment to discuss traditional dating rules – which should stay and which should go. Then, Nicole sends a You're Not Wrong to anyone who watched the Tinder Swindler and had *these* thoughts.
Thanks for listening! If you liked what you heard, make sure to rate, review, and subscribe. If you want more from us make sure to follow us on Twitter and Instagram @thenotwrongpod.
Subscribe, Rate, and Review to "You're Not Wrong" on Apple Podcasts, Spotify, iHeartRadio, Stitcher, or Google Podcasts.
Podcast: Play in new window | Download | Embed