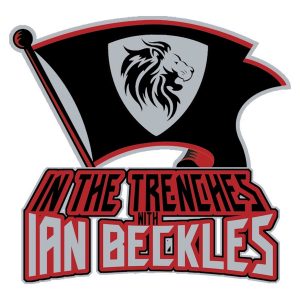 The Los Angeles Rams are the Super Bowl LVI champion in an incredible 23-20 come-from-behind win led by QB Matthew Stafford. The MVP was WR Cooper Kupp, whose 8 catches for 92 yards and 2 TDs were huge, but it was his rush for 7 yards on 4th down in the 4th quarter that kept things alive for the Rams.
The one thing that hasn't been mentioned is the Rams' defense. Why? Former NFL offensive lineman Ian Beckles explains to you why the Rams' defense was the difference in the game and breaks down the entire contest this week In The Trenches.
This episode of In The Trenches is powered by BlueChew. BlueChew is a unique online service that delivers the same active ingredients as Viagra and Cialis, but in chewable tablets and at a fraction of the cost! Ian has got a special deal for his listeners: Try BlueChew free when you use our promo code FLAVA at checkout–just pay $5 shipping. That's BlueChew.com, promo code FLAVA to receive your first month FREE. Visit BlueChew.com for more details and important safety information.
Thanks for downloading and listening to In The Trenches. Don't forget to show your support for the show by leaving a rating and review on Apple Podcasts.
Subscribe, Rate, and Review the podcast on Apple Podcasts, Stitcher, Google Play, TuneIn Radio, iHeartRadio app, and now on Spotify!
Have a question for Ian, send an email to IanBeckles@RadioInfluence.com.
Follow Ian on Twitter @IanBeckles and on Instagram @Ian_Beckles
Podcast: Play in new window | Download | Embed