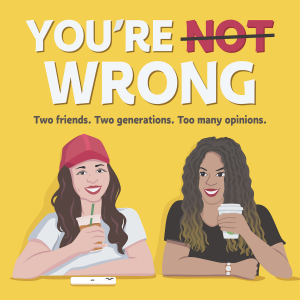 A little late to the party, but in a new GenX file, Nicole discusses the HBO show Insecure and THAT ending. Are you #TeamLawrence? Then, Elisabeth has a You're Not Wrong to the late, great legend Betty White. RIP Golden Girl.
Thanks for listening! If you liked what you heard, make sure to rate, review, and subscribe. If you want more from us make sure to follow us on Twitter and Instagram @thenotwrongpod.
Subscribe, Rate, and Review to "You're Not Wrong" on Apple Podcasts, Spotify, iHeartRadio, Stitcher, or Google Podcasts.
Podcast: Play in new window | Download | Embed