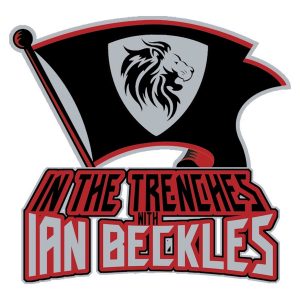 It's a "Victory Monday" for the Buccaneers after they came from behind in dramatic fashion to knock off the New York Jets 28-24 in the Big Apple. Unfortunately, the win was overshadowed by a complete and total meltdown of WR Antonio Brown, who caused a scene on the sidelines by taking his uniform and shoulder pads off, throwing them at the bench, and skipping his way off the field. This resulted in HC Bruce Arians removing Brown from the team.
It's obvious that Brown needs some help with his mental health but who is the person to get him to understand that? Until that happens, no one can help a person who doesn't think he needs help.
Former Buccaneer Ian Beckles explains why he feels the actions of Brown yesterday were a straight-up mental health issue and not just a temper tantrum from a selfish player.
Thanks for downloading and listening to In The Trenches. Don't forget to show your support for the show by leaving a rating and review on Apple Podcasts.
Subscribe, Rate, and Review the podcast on Apple Podcasts, Stitcher, Google Play, TuneIn Radio, iHeartRadio app, and now on Spotify!
Have a question for Ian, send an email to IanBeckles@RadioInfluence.com.
Follow Ian on Twitter @IanBeckles and on Instagram @Ian_Beckles
Podcast: Play in new window | Download | Embed