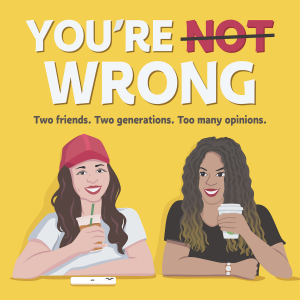 This week Nicole goes off on a Gen X File regarding "digital panhandling." When have the GoFundMes gone too far? The ladies will figure it out. Then, Elisabeth takes the gavel in You're Not Wrong directly personally to Ms. Taylor Swift.
Thanks for listening! If you liked what you heard, make sure to rate, review, and subscribe. If you want more from us make sure to follow us on Twitter and Instagram @thenotwrongpod.
Subscribe, Rate, and Review to "You're Not Wrong" on Apple Podcasts, Spotify, iHeartRadio, Stitcher, or Google Podcasts.
Podcast: Play in new window | Download | Embed