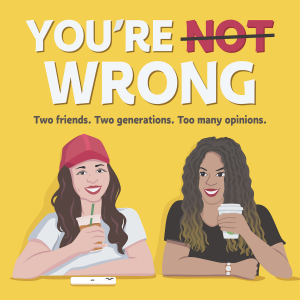 This week, Elisabeth brings Nicole a millennial Halloween classic that haunted her nightmares: Don't Look Under the Bed (Disney, 1999). Then, Nicole shares her nostalgia for a non-spooky, fall classic: It's the Great Pumpkin Charlie Brown, which Elisabeth does not get at all. The two ends the show with what's wrong this week.
Thanks for listening! If you liked what you heard, make sure to rate, review, and subscribe. If you want more from us make sure to follow us on Twitter and Instagram @thenotwrongpod.
Subscribe, Rate, and Review to "You're Not Wrong" on Apple Podcasts, Spotify, iHeartRadio, Stitcher, or Google Podcasts.
Podcast: Play in new window | Download | Embed