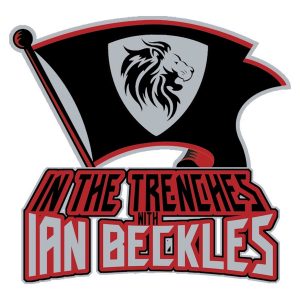 The Tampa Bay Buccaneers fell to the Rams Sunday in Los Angeles and it just seemed the Bucs were outclassed from the jump. Yes, the Bucs were missing a lot of key players but that isn't an excuse. Is it the end of the world? Nope. Do they need to play better? Yep.
Next week on Sunday Night Football, it's the game that's been 18 months in the making as Tom Brady leads the Bucs into Gillette Stadium in Foxboro, MA for a battle against Bill Belichick and the Patriots.
Thanks to this episode's sponsor, PredictionStrike. Download PredictionStrike's new app in the App Store or by visiting PredictionStrike.com. Sign up with promo code BECKLES to receive a free share of an athlete when you deposit $20 or more.
Thanks for downloading and listening to In The Trenches and show your support for the show by leaving a rating and review on Apple Podcasts.
Subscribe, Rate, and Review the podcast on Apple Podcasts, Stitcher, Google Play, TuneIn Radio, iHeartRadio app, and now on Spotify!
Have a question for Ian, send an email to IanBeckles@RadioInfluence.com.
Follow Ian on Twitter @IanBeckles and on Instagram @Ian_Beckles
Podcast: Play in new window | Download | Embed