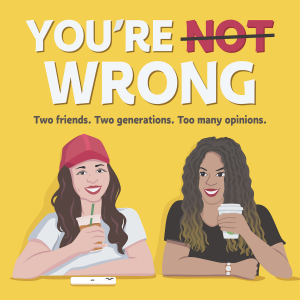 This week, Elisabeth brings Nicole up to speed on LulaRich and Harry Styles' dating advice (spoiler: "TRASH TRASH TRASH"). Then, Nicole talks about the HBO show "White Lotus" and the idea of trophy wives. Are they an archetype of a bygone era? Or a real goal for women everywhere?
Thanks for listening! If you liked what you heard, make sure to rate, review, and subscribe. If you want more from us make sure to follow us on Twitter and Instagram @thenotwrongpod.
Subscribe, Rate, and Review to "You're Not Wrong" on Apple Podcasts, Spotify, iHeartRadio, Stitcher, or Google Podcasts.
Podcast: Play in new window | Download | Embed