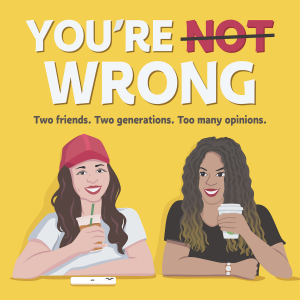 In this week's Millennial Moment Elisabeth and Nicole talk about internet pranks, Bachelor in Paradise Drama, and Blue Clues. Then in a new Gen X File Nicole recaps the Monica Lewinsky scandal as the two get ready for American Crime Story on FX.
Thanks for listening! If you liked what you heard, make sure to rate, review, and subscribe. If you want more from us make sure to follow us on Twitter and Instagram @thenotwrongpod.
Subscribe, Rate, and Review to "You're Not Wrong" on Apple Podcasts, Spotify, iHeartRadio, Stitcher, or Google Podcasts.
Podcast: Play in new window | Download | Embed