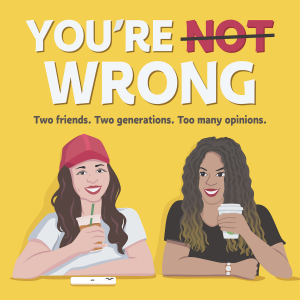 This week Elisabeth and Nicole play the "should this exist" game with different pumpkin spice products. Answer? Probably not. Then they discuss the milkcrate challenge, the Nirvana baby child pornography lawsuit before Nicole teaches Elisabeth about 90's urban legends.
Thanks for listening! If you liked what you heard, make sure to rate, review, and subscribe. If you want more from us make sure to follow us on Twitter and Instagram @thenotwrongpod.
Subscribe, Rate, and Review to "You're Not Wrong" on Apple Podcasts, Spotify, iHeartRadio, Stitcher, or Google Podcasts.
Podcast: Play in new window | Download | Embed