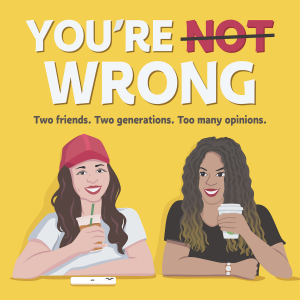 This week Elisabeth and Nicole discuss mask ordinances and COVID shutdowns, and Simone Biles leaving the Olympics. Will mental health stop us from reaching greatness?
Pretty privilege is a topic up for debate, but is it real? Then finally, a new CULT WATCH as Angela and her Daddy's Girls take TikTok.
Thanks for listening! If you liked what you heard, make sure to rate, review, and subscribe. If you want more from us make sure to follow us on Twitter and Instagram @thenotwrongpod.
Subscribe, Rate, and Review to "You're Not Wrong" on Apple Podcasts, Spotify, iHeartRadio, Stitcher, or Google Podcasts.
Podcast: Play in new window | Download | Embed