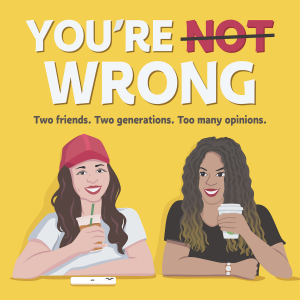 This week Elisabeth and Nicole discuss whether or not Batman goes down, Chrissy Tiegan apologizes again (this time to Michael Costello), and the era of the Kardashians ends…or does it? Elisabeth schools Nicole on Twilight and Fifty Shades fan fiction, while Nicole breaks down the 90s saga that is Milli Vanilli.
Thanks for listening! If you liked what you heard, make sure to rate, review, and subscribe. If you want more from us make sure to follow us on Twitter and Instagram @thenotwrongpod.
Subscribe, Rate, and Review to "You're Not Wrong" on Apple Podcasts, Spotify, iHeartRadio, Stitcher, or Google Podcasts.
Podcast: Play in new window | Download | Embed