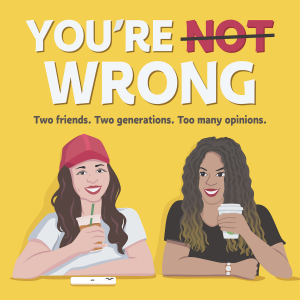 This week Elisabeth and Nicole discuss COVID Vaccine Lotteries, Naomi Osaka withdrawing from the French Open, "KKK Princess" Ellie Kemper, why we should all stop what we're doing and have kids right now.
Thanks for listening! If you liked what you heard, drop us a five-star review telling us how you're not wrong, and make sure to follow us on Twitter and Instagram @thenotwrongpod.
Subscribe, Rate, and Review to "You're Not Wrong" on Apple Podcasts, Spotify, iHeartRadio, Stitcher, or Google Podcasts.
Podcast: Play in new window | Download | Embed