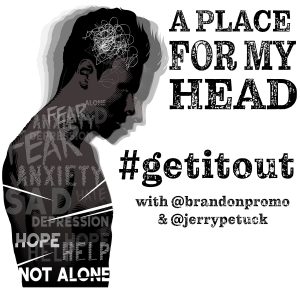 This week on A Place For My Head, Brandon Thompson chats with former Nacy SEAL turned author Jason Redman. Jason spent 21 years in the Navy and has taken those lessons learned and is now sharing his motivational message with companies, teams, churches, and individuals across the globe through motivational speaking, workshops, personal coaching, and business consulting. His message of leadership, teamwork, the "Overcome Mindset," and surviving life ambushes by "Getting off the X" resonates with companies and individuals alike.
Also, Brandon explains why there was a break since our episode and why Jerry is forced to take a break from the podcast. Sometimes, life throws you some unexpected curveballs but he hopes to be back sooner than later. If you'd like to throw Jerry some well wishes, feel free to hit him up on the social media links below.
Thanks for listening!
If you feel you are in crisis, please call the National Suicide Prevention Lifeline at 1.800.273.TALK (8255).
Follow us on social media:
A Place For My Head: Website Facebook
Brandon Thompson: Facebook Instagram Twitter
Jerry Petuck: Facebook Instagram Twitter
Make sure to visit the A Place For My Head website!
Subscribe, rate, and review A Place For My Head on Radio Influence, Apple Podcasts, Stitcher, TuneIn Radio, Google Podcasts, iHeartRadio, and now on Spotify!
Podcast: Play in new window | Download | Embed